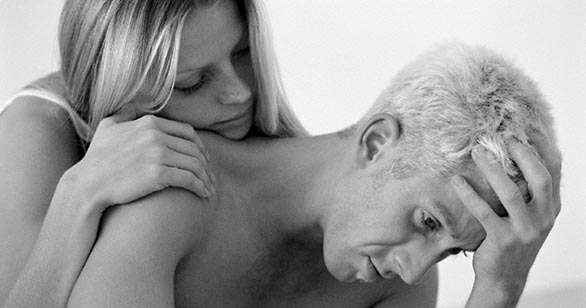 In 2007 a panel of 21 experts from the International Society for Sexual Medicine reviewed research and wrote a definition of premature ejaculation:
Premature ejaculation is that male sexual dysfunction which is characterized by ejaculation that nearly always or always occurs within or prior to about one minute of penetrating the vagina. It is also the condition whereby the individual is incapable of delaying ejaculation on nearly all or all cases of penetrating the vagina; in addition, it represents the negative personal consequences like bother, distress, the avoidance of sexual intimacy and/or frustration.

While it may cause distress and frustration, it is important for men to understand they are not alone. The Mayo Clinic estimates that as many as one in three men experience premature ejaculation. A variety of psychological and biological causes can contribute to this condition.
Erectile Dysfunction
Men who have problems with erectile dysfunction may become anxious about their sexual performance. Getting and/or maintaining an erection is something they are already worried about. This anxiety can cause a pattern of trying to hurry to achieve orgasm, therefore leading to premature ejaculation.
General Anxiety
Many men underestimate how intertwined sexual performance and emotional well-being are. Stress and anxiety definitely play a role in premature ejaculation. It may occur with a new partner because of the heightened sense of arousal and the desire to perform well. The increased pressure can cause tension or slight panic and cause men's bodies to go into overdrive. Common worries can be:
Worry about getting her pregnant.
Participating in an affair and being afraid someone will find out.
Lack of confidence.
Unrealistic performance expectations.
Stress over completely unrelated things like finances or work.
Fear of contracting a sexually transmitted disease.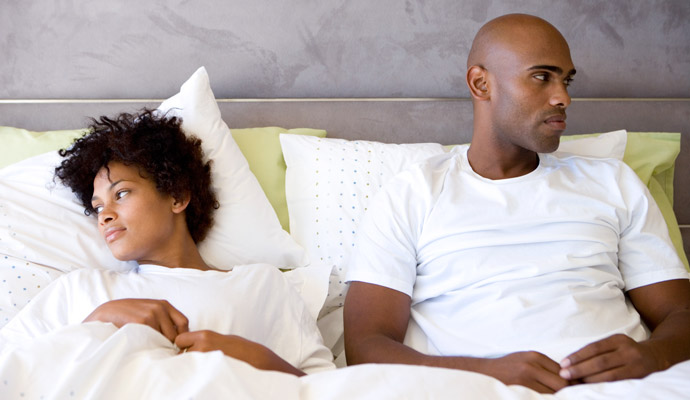 If a man is experiencing premature ejaculation due to anxiety, it can become a repetitive pattern. He may feel he has performed inadequately and so the next time he has sex, will likely be even more anxious and that definitely will not help the problem.
Premature ejaculation may also come from previous experiences. A man may have had sex secretly and quietly in situations that necessitated a quick climax so he would not be discovered. It could also stem from childhood abuse or other negative childhood situations.
As an interesting side note, when looking at it from an evolutionary standpoint, scientists have theorized that cavemen had to ejaculate quickly to ensure a female's pregnancy.
Relationship Issues
If a man's relationship has hit a rough patch he may begin to experience premature ejaculation. Because the relationship could be in trouble, he may worry about the importance sex has in maintaining the relationship. It could be the tension between the couple or even his desire to get sex over with as quickly as possible.
Inexperience or Significant Gaps in Sexual Encounters
Teenagers as well as inexperienced men tend to experience premature ejaculation because of the heightened state of arousal and sensitivity of their penis. Along the same lines, a significant gap in the time between sexual partners can cause a man to react more intensely to touches and sex than they would otherwise.
Other Causes
Some other factors in the incidence of premature ejaculation are not as common, but are still valid concerns. Rarely, premature ejaculation can be caused by neurological issues, medical conditions like thyroid problems, prostate problems, or medicines that cause sexual stimulation to feel more intense.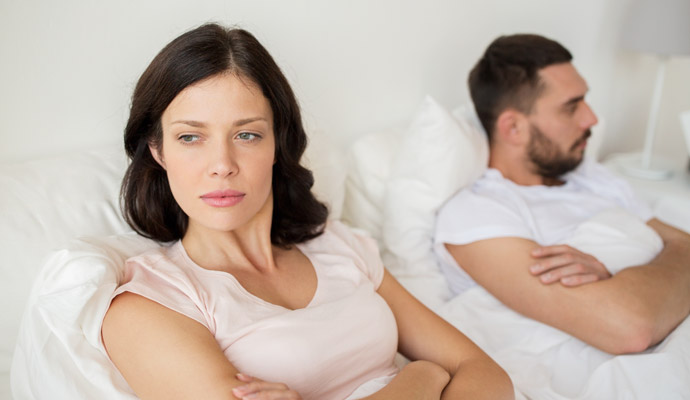 Getting a Diagnosis
While the most likely causes of a man's premature ejaculation are psychological in nature, there are certain things that he should pay attention to. These things may point to potentially serious medical conditions, or even issues that are quickly and easily treated.
Sudden onset of premature ejaculation when it has never been a problem before.
If medication that may cause premature ejaculation is being taken for either physical or psychological reasons.
If the condition has increased steadily over time, or has started causing problems in his life and relationships, as well as causing feelings of inadequacy.
If he has other physical symptoms that run parallel to the onset of premature ejaculation.
Treatment Options
There are many different treatment options for premature ejaculation. Many men try behavior therapy first. This type of therapy teaches them to be aware of when they are going to ejaculate and take measures to delay it. These techniques include:
Sexual Positions – Experimenting with different sexual positions to figure out which of them allows for more control over the muscles that cause ejaculation.
Starting and Stopping – This technique involves the withdrawal of the penis before ejaculation. This method allows the man to relax enough to prevent premature ejaculation, thereby increasing the length of sex.
Biofeedback – This is a technique proven to work for all kinds of physical issues, including premature ejaculation. A computer will monitor brainwaves, heart rate, muscle tension, and skin temperature among other things. Through biofeedback, a man can learn to control the sensation and muscles that cause premature ejaculation.
The Squeeze Technique – When a man feels like he is going to ejaculate before he is ready, he will withdraw his penis and have
his partner squeeze the top of his penis where the head joins the shaft. Once the urge to ejaculate has passed, his partner releases his penis. Then the man and his partner can resume their sexual activity. If the urge comes back, repeat the method.
Masturbation – Masturbating an hour or two before sex helps men delay ejaculation because they are slightly desensitized at that time.

Premature ejaculation is normal, has many causes, and is easily treated.