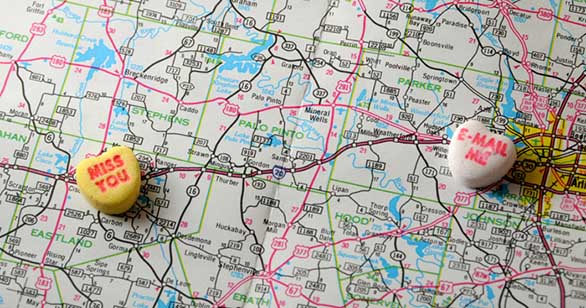 If a relationship isn't hard enough already, a long distance relationship can be among one of the most difficult to sustain. Even if you love someone endlessly and you would wait years to see them only so that the two of you can be together, it takes a lot of trust and a lot of patience. There are so many aspects to a relationship and if you truly want to be with this person In the future then consider the following so that you can keep the relationship alive. To be honest, it doesn't matter how far away two people are if they are in love but it does matter as to whether or not you're patient enough to wait for them.
Importance of Love
Love is a subject that cannot be defined and there is no explanation as to why we feel instant and deep connections with other people. Anyone who has been lucky enough to feel love knows that it is the best feeling in the world – it makes you feel invincible and confident in yourself. When you have true love you know that nothing else is as important as the love is that the two of you have.
Everything can disappear: cars, clothing, material goods and even a house – but, when you have loved you can get through it all. You can have all of the material goods in the world and still not feel full of life and love because you haven't opened your heart up to someone who is willing to give you the priceless and ever giving gift of love and sacrifice.
Many people have a wall up and are very defensive when it comes to opening up their heart and their personal life. Anyone who is afraid to do that knows very well how painful it can be to get hurt by someone that you truly love. Trust is one of the most difficult concepts to grasp especially when you have trusted before and then have been betrayed by that person.
It's important not to let your trust problems and past betrayals get in the way of a relationship that you have now. You could be missing out on someone who is willing to give you the world and more. If you want to know how to successfully hold a long distance relationship, you should first grasp the concept that trust is the foundation of a relationship.
Learning, Accepting and Supporting
Whether or not that person is in another country or lives two hours away from you, you have to support whatever they do as best as you can be that you are away from them. It can work if that person feels that you're making an effort to sustain the relationship. It's very important that the two of you discuss what the both of you need in terms of support as well. Some people need more verbal support; some need inspiration, understanding or acceptance. If the two of you clicked immediately I assume that you naturally understand that a relationship means communicating with each other and doing whatever it takes to continue loving this person.
Is there any way that the two of you can agree on certain dates to come see each other? Believe it or not, many couples have worked out very well because they started off with a long distance relationship. At times this will keep the balance between taking care of your responsibilities before you spend all of your time with the person that you want to be with and see the most.
If you can agree on a schedule then you're truly going to appreciate the small amount of time that you can spend with that person. If you have been with that person for a long period of time and they remain to live far away, talk about future goals. Do you want to move in together, live in the same place, go to school together etc. These are all important questions to ask because the most successful couples end up having the same goals and the same wants in life.
The two of you can be completely different from each other and do different things, but if you don't have the same goals then it may not work out the way that you want it to. You can TRULY make it work with this person if you love them and you won't second guess the wait or the patience that it takes to end up with them in the end. Remind yourself as to why you love them, look at all of the great things about them and stay positive.
Technology and Communication
With the endless amount of technology and innovations in technology it's so easy to stay in contact with each other. You can Skype or use face-chat so that you can still speak to one another while looking at each other. Communicating with one another about what you're doing and who you're with is also going to give your partner a better idea as to what you do without them or who your friends are. Being detailed about your day or what your plan is for the night is also going to give your partner a sense of warmth and comfort in knowing that you're being honest and upfront about what you are doing while they are away.